On saturday, come to artist Ta Huy Long's atelier
Having known The Cricket by Artist Tạ Huy Long since 2008, but it was not until July 2017 that I met him. I am captivated by his meticulousness in every detail in each work of art creating a low-lying world with a vibrant and lively insects' family with cô (aunts), bác (uncles), anh (brothers), chị em (sisters). The project calling for investment in an animation movie from Citigroup was unsuccessful, thus I profoundly remember the solid, sharp lines, multi-layered, multi-dimensional space and the fluttering insect eyes in Tạ Huy Long's watercolor paintings.
Meeting at VCCA, I invited him to carry out a cricket exhibition. He refused for the reason that cricket was an old-fashioned topic. Then, the idea of ​​renewing the nearly-80-year-old story to create different worlds in the indefinite space of VCCA suddenly spring to mind, and we decided to collaborate to open the exhibition "Touch the Worlds", which has welcomed about 4000 visitors per day in the first 2 months of 2018.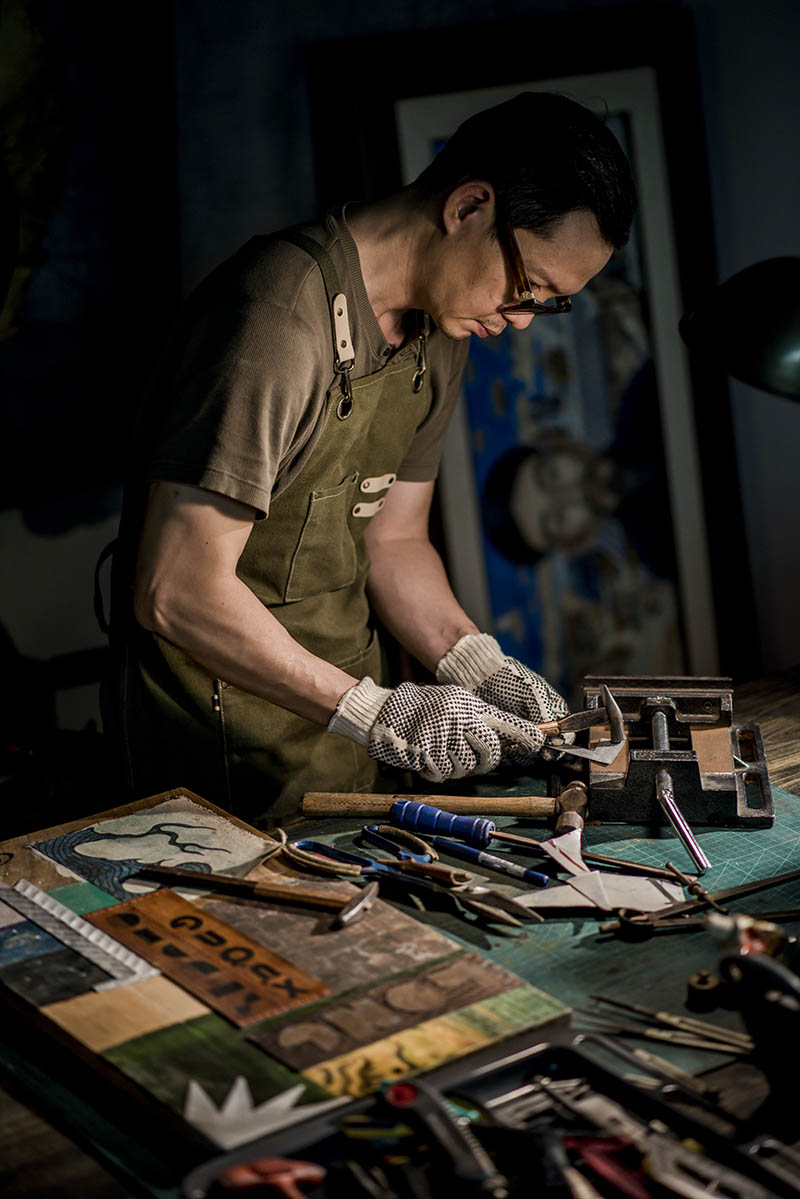 "Touch the Worlds" means touching fresh emotions, opening up colorful imaginations and observing each leaf of pomelo tree, longan tree, top of water bamboo, stalk of bamboo grass, duckweed seed, pelican wing, mantis claws...in unique and unusual displays, brilliantly perfect.
Later, he invited me to visit his atelier. A universe of folklore and legend converging in 3 small rooms. Old leather suitcases containing thousands of drawings of more-than-4000-year of Vietnamese history and millions years of mythology. Fascinating horses: the one in red lacquer is the Red Hare? The one with the secret drawer is the wooden horse of Troy? Another horse that Artist Tạ Huy Long jokingly called the "Crazy Horse" with lava-colored skin... The multi-material chests were shaped like ancient battleships carrying paintings of naval battles as sharp as reliefs. And the crickets flapped their wings on the wall, darting through the doorframe; multicolored leather-clad crickets stand on top of each other with wide emerald eyes, amber eyes looking at other crickets leaning against the wall as a console shelf opens up to multi-purpose storage.
With Tạ Huy Long, "Beauty is usable". Hence, his works of art are not only beautiful, but also practical to be used as utility items. He seeks for materials which are close to everyday use: wood, iron, fabric, leather... These familiar materials seem to keep the breath and the memory of its previous life. Each piece of skin still having the living emotion, each wooden board still having the tree living smell - each life is an original that is not repetitive anywhere. He breathes life into those memories, giving them a new life, a new meaning, a practical use. And like that, the original spirit lives on, in a new original body created by the artist.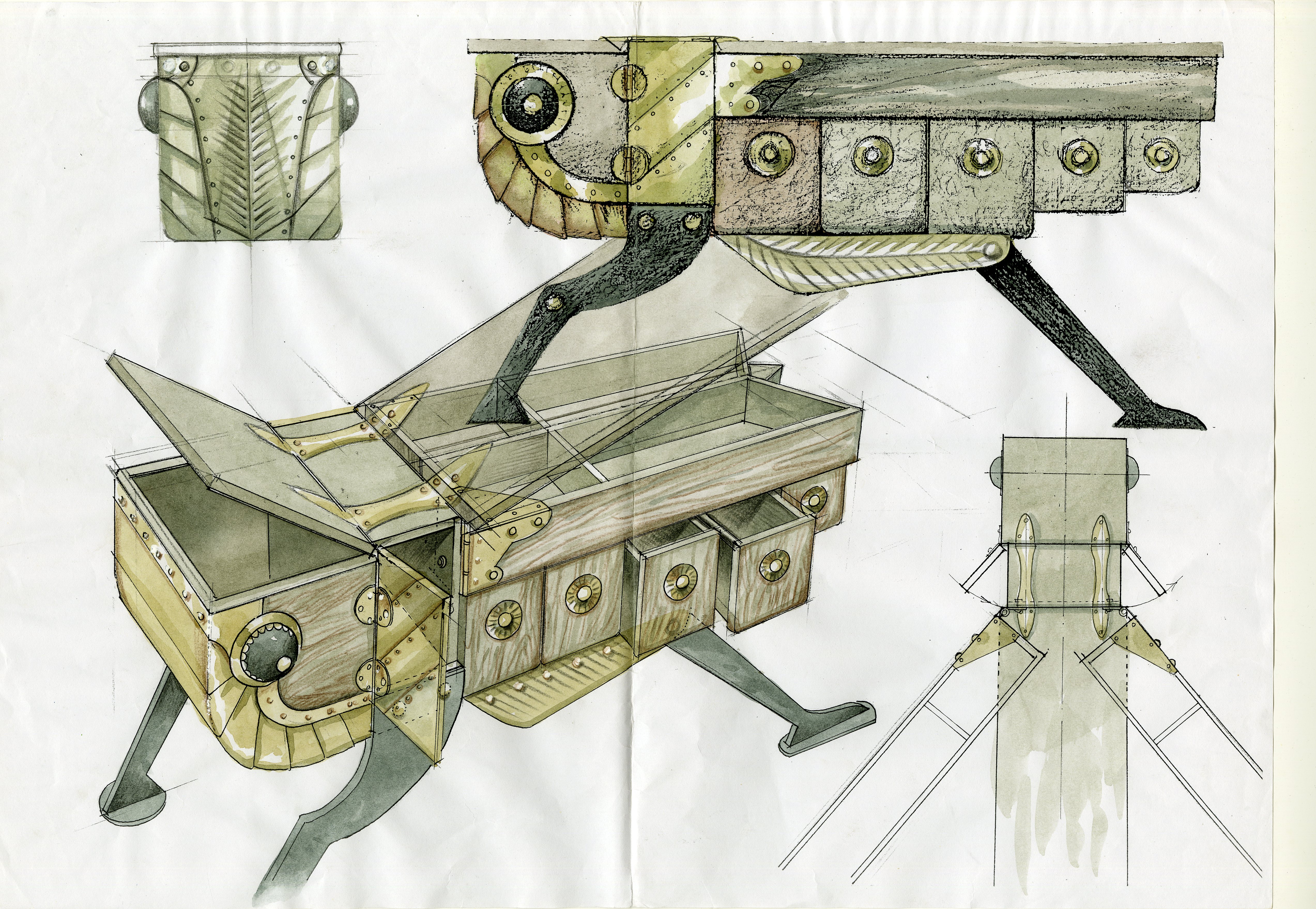 A sketch in thousands of sketches of The Cricket's application by Artist Tạ Huy Long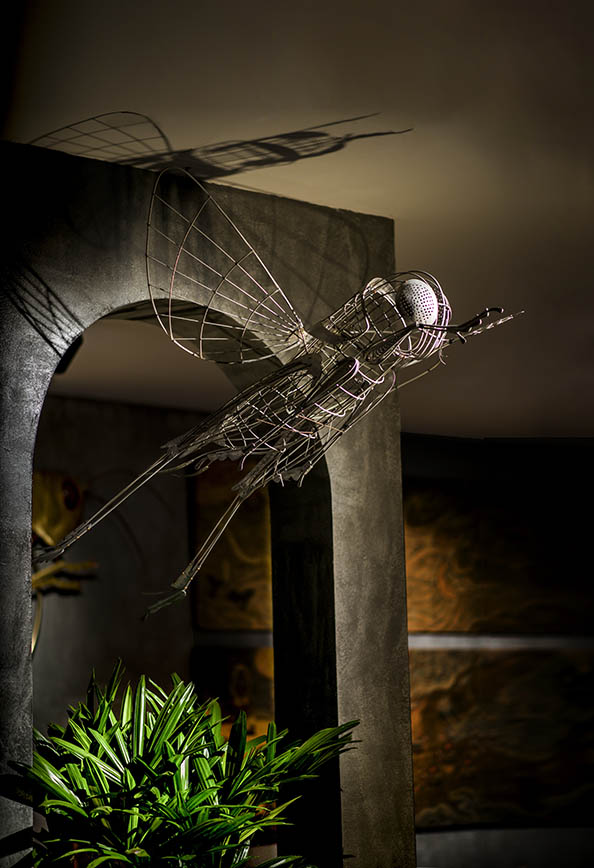 Mèn is tough with strong steel muscle tufts like a sharp metaphor for the strength of a martial artist
Tạ Huy Long is meticulous in a consistent way – he is exceptionally consistent. Each work of art is the result of hundreds of sketches and numerous prototypes. He tried over and over again, amending his sketches on different hues, stripes, and proportions until he came up with a final single perfect version. Particularly with his friend the Cricket, he dedicates most of his time. During 19 years, he and Mèn - the familiar name he still uses - have been friends, talking to each other through thousands of versions. Mèn vividly shimmering on watercolor. Mèn is tough with strong steel muscle tufts like a sharp metaphor for the strength of a martial artist. Mèn flapped their giant leather wings over the wall as if in his own sky. Mèn stand solidly in the shape of wooden shelves and leather boxes with hidden storage compartments for small surprises. Mèn has hundreds of completely different incarnations crafted from Artist Tạ Huy Long's small atelier, with tools for carving, cutting and sewing made by himself in order to renew the materials usually in hand of artisans more than in hand of artists. And then, did Mèn turn into Artist Tạ Huy Long, or did Artist Tạ Huy Long turn into Men in a self-portrait initiated from mental dialogue?
Artist Tạ Huy Long also transformed into thousands of representations of himself. That's what I see when I curiously exploring the drawers, the picture frames, the sketchbooks in his atelier. In November 2009, exactly 12 years ago, the Institut Français introduced an exhibition of his paintings inspired by Vietnamese folklore - an exhibition whose name I would like to interpret as Metamorphosis: Back in the days, I was –autrefois, j'etais. Painting myself – the exhibition in 2012 continues to bring more unusual incarnations to the public.
Critic Phan Cẩm Thượng reflects on his artwork in the 2009 exhibition: "Tạ Huy Long brings about paintings from patient and hard work with the ultimate desire for perfection. The artist pays attention to every detail and nuance of each part to the whole, seemingly unconcerned with randomness or spontaneity, he understands his painting just like a watchmaker understands each screw inside a watch"…

Artwork "The Astral Realm (Night)", lacquer, 240x 90 cm
He understands his paintings thoroughly, understands not only tigers, fishes, eagles, mallards, woodcutters, writers, Trương Chi but also the whole forest, the whole country, the whole sky, the grasslands, and the pond banks just like he understands Mèn and Mèn's world, just like he deeply understand himself and his worlds. Because it is the embodiment of who he is – in a slight moment amongst the vast universe, when the artist and his inspiration become one.
Facing with each work of art - each incarnation of artist Tạ Huy Long, I suddenly thought of Nietzsche and the three metamorphosis he wrote in Thus Spoke Zarathustra. Those three metamorphosis are the three transformation stages of the spirit in the cycle of life, the three metaphors of the states of mind: "The metamorphosis of the spirit I named for you: how the spirit become a camel, and the camel a lion, and finally a child."
For me, artist Tạ Huy Long has gone through the camel state, through the lion state to become a child playing with crickets and creating his own cricket world. The cricket beyond all the writers' descriptions, all the imaginations of the generations of artists painting crickets before him over the past 80 years to embody in the world of original colors and materials "lost" into his atelier at that special moment – ​​to spread wings freely in the boundless imagination.
In the end, the artist always stepped back from his own artworks. Because he loves that life, that breath. The artwork when taking shape in the atelier – it belongs to him. But after he completed it, each artwork has its place in the universe to which it belongs, its life and destiny are completely independent of the artist. The author is just a person having the grace to perceive, to connect the signals and create from his own hands a display, an interpretation. The artwork lives a life of its own, and its ultility defines its existence.
That's is the reason why, when I asked Tạ Huy Long: If you could use only one word to describe your art, what would it be? Gratitude – his answer came after a slight pause.
During the change of seasons, if you come by The 7th Atelier, you will get lost in these crossed worlds, you will live and relive those same childhood memories that every child have ever dreamed of. And even the memories that have not yet existed about a further-away adventure land, or more or less being swept away by the cramped and bustling pace of life in the city. Who knows, you'll find that feeling of gratitude – just like how we have found it here – grateful for this life, grateful for the worthwhile existences capturing a moment of us living in the midst of the rushing fluxes in the infinite universe.
by Nguyễn Thị Quý Phương
The 7th Atelier - a new creative cultural center
On November 12th, The 7th Atelier - the Capital's new creative cultural center - officially opened the art space of Artist Tạ Huy Long with the theme "On Saturday, come and visit my atelier!" at No 121, 8/3 Street, Quỳnh Mai ward, Hai Bà Trưng District, Hà Nội.
The Atelier will open and welcome guests to experience and explore the art world of Artist Tạ Huy Long every Saturday afternoon, starting from November 13th until December 31st, 2021.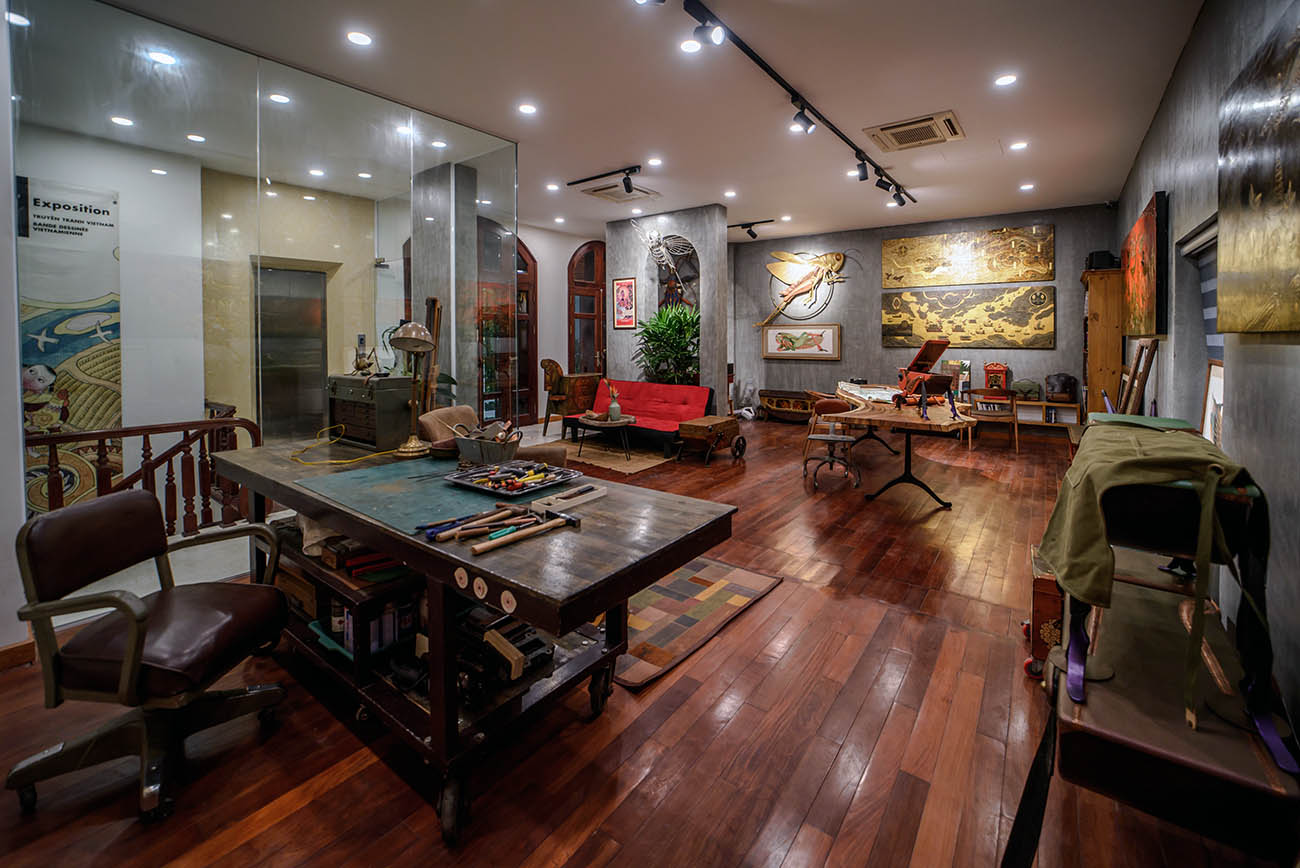 A corner of Artist Tạ Huy Long's Atelier