ABOUT QP VIETNAM CONSULTING
QP Vietnam Consulting Co.,Ltd was founded on January 28th, 2021 and headquartered in Hanoi, Vietnam. QP Vietnam Consulting is an international consulting firm on investment, project development, communication - public relations and optimization of business management in the following areas:

CULTURE; SCIENCE - EDUCATION; TOURISM, ENVIRONMENT, ENTERTAINMENT AND CREATIVE INDUSTRIES. 

QP Vietnam Consulting is founded by a team of enthusiastic, passionate individuals with the ultimate desire towards a stronger, more beautiful and prosper Vietnam. With experiences in multidisciplinary fields, our team strive to go together with Vietnamese ambitious entrepreneurs through national projects evaluated and recognized by the international community in every industry and field participated in.
The world-class training center in Vietnam with the leading scale in Asia, carrying a mission to professionalize Vietnamese Football to reach high level by providing FIFA Quality facilities and preeminent educational programs to develop all-round football players with cultural knowledge, personal skills and physiques. PVF aims to contribute to realizing the dream of Vietnam men's football team to participate in the FIFA World Cup Finals 2026-2030.
Vincom Contemporary Center of Art (VCCA)
Vietnam Motorsport Association (VMA Association)
Vietnamese Motorsports Association LLC (VMA LLC)
WITH THESE ACHIEVED MILESTONES THAT ALLOW US TO BUILD PRESTIGE AND EXPERTISE, WE TAKE A CONSISTENT APPROACH TO CHALLENGE OUR TEAM WITH PROJECTS OF DIFFERENT SCALES AND FIELDS.
International Corporations/Enterprises planning to invest in Vietnam.
Vietnamese Corporations/Enterprises with the orientation to invest, develop business activities and expand in international markets, positioning Vietnamese brands; the need to develop strategy to reach international standards, to create inspiring stories and to improve the commercial value of domestic products. We support Vietnamese corporations determining to enhance the values of Vietnamese goods & products in the domestic and international markets with great strategies, creativity and the pride of "Make in Vietnam".
Entrepreneurs/Corporations with the vision to create legacy, contribute to revitalizing Vietnamese spirit, advancing Vietnamese minds, dedicated to bettering lives of millions of Vietnamese people.
Start-ups by developing innovative products with IP and implementing scientific research projects in domestic and international production and business.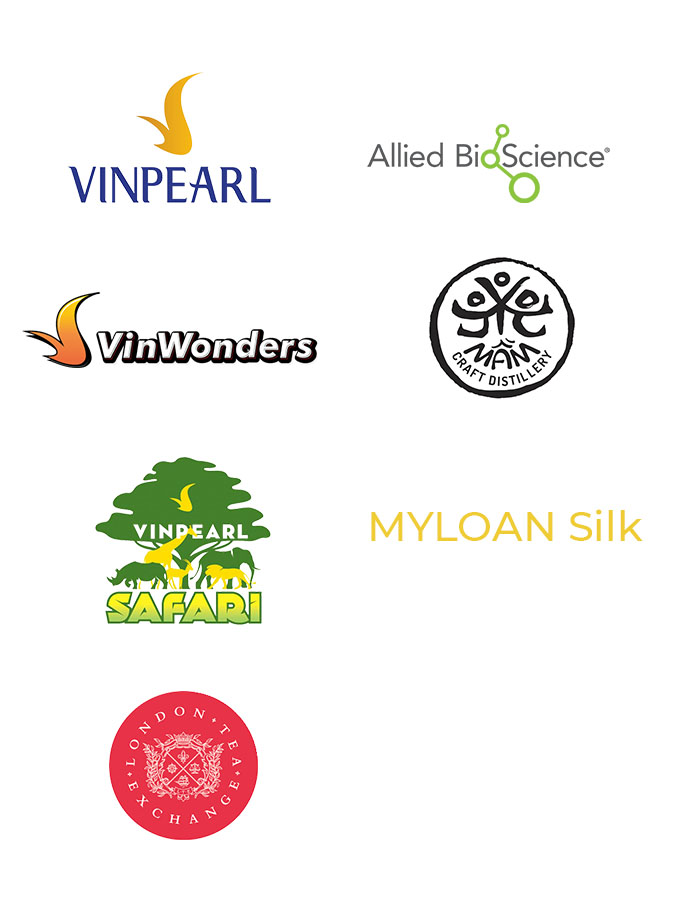 Start-up with the Vietnamese aspiration and a global vision, we believe that empowering human competency in general and Vietnamese creativity in particular is the driving force of all civilizations, including Vietnam, to rise up high and strong.

In the 18th century, the invention of James Watt's steam engine changed the way our world worked. The innovation of electricity in the mid-19th century illuminated the existence on Earth as well as the future of human beings. Information Technology has been proved to break the limits of time and space, creating magical connection in our everyday lives. Artificial Intelligence (AI) – the core of the Fourth Industrial Revolution, has shown the borderless power in optimizing the working capacity of the human brain.

Being aware of the facts, we carry a mission to accompany entrepreneurs / governmental organizations / non-governmental organizations / companies and corporations ... on the path of creating values, in whichever fields they pursue: culture, science - education, environment, innovative technology...

With our strong set of values and credibility, we always find our own path in the Creative Industry by providing consulting services in developing strategies customized to every client's personality and vision, while ensuring maximum values created for our clients, being assessed by strict standards:

UNIQUENESS
Each product for each project is the result of rigorous research into each product component; designed specifically for the client in which will interpret the client's personalities and stories in a unique and exceptional sense.
CREATIVITY
Each consulting work is a comprehensive and innovative transformation; each product being created will mark a breakthrough thinking beyond all conventional boundaries.
OPTIMIZATION
All consulting solutions aim to optimize and promote every client's resources, including human, facility, and finance in order to maximize the efficiency of the client's investment.

SUSTAINABILITY
Our work aims to create long-term sustainability for the society and the environment based on a rigorous understanding of every client's institutional context, sector dynamics and macroeconomic environment, resonating values with the ecosystem where their businesses invest and develop.